Wedding Sherwani Outfits for Bridegroom
A lot of our readers are bride-to-bes, and while most bridegrooms do not spend much time researching the type of clothes they will be wearing on their wedding day, I thought it would be a good idea to have some articles that focused on the bridegroom because the brides will be doing the research for them!
So here is an article that contains some ideas for bridal sherwani for the bridegroom.
The sherwani is a long coat-like top that is worn with pants. Although the sherwani a national dress for Pakistan, it is also a popular choice for most bridegrooms all over South Asia, especially in India.
When picking a sherwani for the bridegroom, it would be best to pick something that is complementary to the bride's wedding outfit. I have noticed that bridal boutiques do not sell matching - his and hers - wedding outfits. So it is imperative that the bride and bridegroom coordinate their wedding outfit shopping. Or simply let the bride take charge of it all!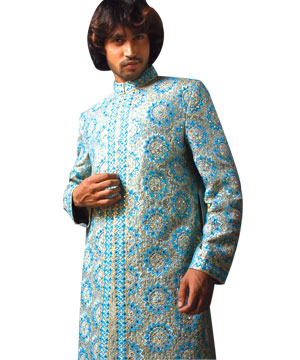 Blue Galore
For some reason, blue is not a popular colour for wedding outfits in South Asia. But I think blue is a great choice, such as these in the pictures.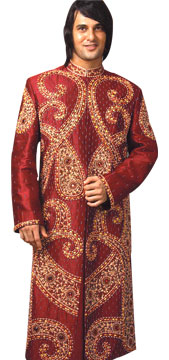 Traditional Reds
Red is a traditional colour for wedding outfits in South Asia. Having embroidery work on the sherwani coat, as in the picture on left, is a great way to make the outfit stand out.
Ivory and Whites
Sherwanis can come in three pieces. The one on the right has an inner vest piece that is red in colour and the tunic coat is in white. Excellent way to add some colour to the outfit without having it overwhelm the overall look. This would be nicely paired with a bride's red wedding outfit.
The ivory sherwani on the left is covered with exquisite silver embroidery work. Nice choice indeed.
Labels: Bridegroom Clothes, Wedding Dress, Wedding Sherwani
Featured Offer from Nina at India Wedding Designs:
Sign-Up For 21 Wedding Tips
Includes the following Topics!

Something Every Bride-to-Be Needs to Know
How To Survive (and Enjoy) Your Wedding Day
The Real Secret to Choosing Colors for Your Wedding Dress
Adapt the Latest Bridal Dress Fashions To Your Figure Type
Bridal Hairstyle Looks That Would Suit You Best
How to Avoid Bridal Make-up Disasters
The Wedding Make-Up Tip for Indians that is Almost Too Easy
For Radiant Skin, These Facial Methods Work Like Crazy
The Biggest Mistake Brides Make (and How to Avoid It)
The Best Way I Know to Get a Honeymoon Trip, Even When Your Budget Doesn't Allow It.