Fanstastic Wedding Hairstyles for Your Wedding
Many Indian brides do their hair in a traditional bun for their formal wedding ceremonies. These days, however, young brides who are influenced by television and fashion magazines, are getting more bold experimenting with different wedding day hairstyles.
Traditional Indian Wedding Bun Hairstyle
Ok, before I show the fresh looks I have found. Here is the traditional indian wedding bun. It is massive, isn't it? I wonder if only real hair was used for this hairdo. Some women can pull it off well like the one in the photo, but I somehow find this look much too reminiscent of school-marms or school librarians to appreciate it much. It tends to make a young woman look older.
Now onto the series of fantastic wedding hairstyles I have come across. Hopefully, you will be inspired by these ideas so you can incorporate them into your own wedding!
Unique Take on the Traditional Updo Hairstyle
The hair is curled and then pinned up showing the magnificent curls. This is a cool way of keeping your hair up, but more fashionable than the traditional tight bun. You can cover your hair with the dupatta (head scarf or veil) during your wedding ceremony, then remove the dupatta for the events afterwards.
This is also an elegant look for your formal wedding dinner.
This wedding hairstyle will work best with medium length hair. If your hair is long and thick, the curls may not keep in place, so a different hairstyle would be more appropriate.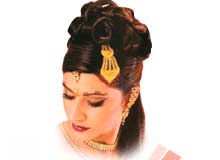 Spanish Updo Wedding Hairstyle
This one is suitable for those with long and thick hair. Part of the hair is done up, with elaborate curls, and sometimes accessorized with flower crowns, crystals, or bows. The other part of the hair is left loose to flow down the back.
Wedding Hairstyle Bun on the Side
Instead of doing a tight bun high on your head,you can opt to do this style. The hair is combed straight, and then pulled into a low poufed up hair bun onto one side. This is a fresh and elegant look that you should consider going for especially if you have well-defined cheekbones and prominent eyes.
Bohemian Wedding Hairstyle
Best with long flowing hair, either straight or curly. This is a simple, fresh look suitable for outdoor or garden wedding ceremonies. You can accessorize with flower crowns, jewels, or simple veil. You can also wear this style for indoor wedding ceremonies. Katie Holmes pulled off this look very well at her wedding to Tom Cruise!
Click here to read an article on traditional

South Indian Wedding Hairstyles
.
Labels: Wedding Hairdo, Wedding Hairstyles
Featured Offer from Nina at India Wedding Designs:
Sign-Up For 21 Wedding Tips
Includes the following Topics!

Something Every Bride-to-Be Needs to Know
How To Survive (and Enjoy) Your Wedding Day
The Real Secret to Choosing Colors for Your Wedding Dress
Adapt the Latest Bridal Dress Fashions To Your Figure Type
Bridal Hairstyle Looks That Would Suit You Best
How to Avoid Bridal Make-up Disasters
The Wedding Make-Up Tip for Indians that is Almost Too Easy
For Radiant Skin, These Facial Methods Work Like Crazy
The Biggest Mistake Brides Make (and How to Avoid It)
The Best Way I Know to Get a Honeymoon Trip, Even When Your Budget Doesn't Allow It.